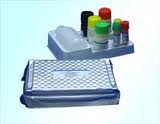 Product name:Rat Thromboxane B2,TXB2 ELISA Kit
Description:
Thromboxane B2 is a metabolite of thromboxane A2 which is known to be highly unstable under physiological conditions. Thromboxane B2 is recognized as a valuable substance for study of a variety of biochemical processes as well as important synthetic precursor to thromboxane A2.
Several syntheses of thromboxane B2 have been completed, either in racemic form or deriving the stereocenters from a chiral pool. The Burke group is currently endeavoring to complete the total synthesis of thromboxane B2.